Play the Recorder Month

March is Play the Recorder Month
Contest Winners Announced in Fall 2016 ARS Newsletter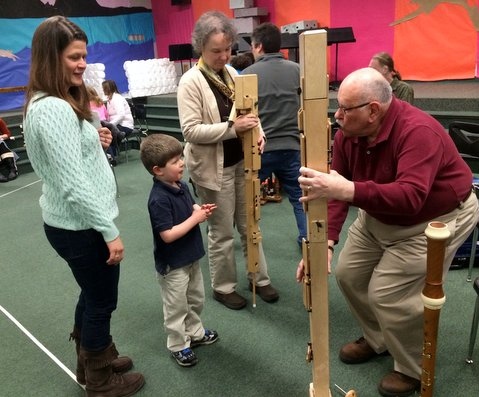 Recorder players from across North America celebrate March as "Play-the-Recorder Month" (PtRM). Many ARS chapters, consorts and recorder orchestras plan special concerts and presentations to illustrate the versatility and beauty of this wonderful instrument.
Read the full report from PtRM 2016 here, complete with contest winners and photos.
Recorder Day!
The third Saturday in March, which this year was
March 19, 2016
, is designated as "Recorder Day." ARS members around the world were encouraged to play the new composition written especially for this occasion entitled "
Steamed Bass and Fischmaul
" by Matthias Maute, an internationally renowned composer, conductor and musician. Matthias comments about his music:
The title of the piece "Steamed Bass and Fischmaul" was born after a conversation with a witty friend who was - rightly so! -bemused by the word Fischmaul-technique. This technique, as far as I know officially launched by Hans-Martin Linde in the 60s, helps to keep notes short by briefly opening the mouth in between notes. It goes without saying that a simple movement with the tongue at the end of a note will result in the same staccato effect, albeit with much less effort. This more refined technique has put the "Fischmaul" out of business. Here is to its memory!
You will find the music score in the centerfold of the
Winter 2015
issue of American Recorder magazine and by clicking
here
. Listen to a midi sound file
here
.
We provide some press materials to help you publicize your events:a
press release
and a
Public Service Announcement
. Here is a
timeline
to help you plan your events.

Play-the-Recorder Month Contest
Chapters, consorts and recorder orchestras are eligible to enter the "Play-the-Recorder Month Contest." Entry forms will be available on the ARS web site. Prizes will include various gift certificates to recorder instrument and music vendors.
Next year's deadline for completed entries is April 15, 2017.
Entries are based on the following criteria:
Number of Events.
Where did the events take place?
How many Performers were involved?
Were Outside Groups or Players involved?
Did any event occur on Play-The-Recorder Day, March 19, 2016?
Did you perform "Steamed Bass and Fischmaul" as part of your program?
Were children involved?
Were Beginners/Novices involved?
How did you publicize your event?
Uniqueness Factor
Other information about your event(s) you would like to share.
Prizes will be awarded for the most imaginative chapter events, the largest percentage increase in new members of a chapter, consort or recorder orchestra, and the most new members in a chapter.
Contest Entry Form in Microsoft Word
Contest Entry Form in PDF format
Read
Reports from Play the Recorder Month 2015