ARS Instructional Videos
ARS brings you Instructional Videos for beginning recorder players, through a collaboration with Knowlera Media.
Each of these topics includes a sequence of five videos, narrated and demonstrated by Vicki Boeckman, a professional recorder performer and teacher based in Seattle, WA.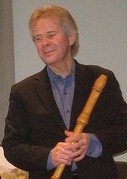 Also available to you is John Tyson's
Recorder Power
video. This exciting and inspiring 47-minute video is targeted at classroom recorder teachers, and was produced for the American Recorder Society by ArtsMedia, Inc. and supported in part by the National Endowment for the Arts.
Click here to view Recorder Power online.
Download the 7 page
Recorder Power Handout
for use with this video.
To borrow a VHS tape of Recorder Power from the ARS office, contact us at
844-509-1422
.